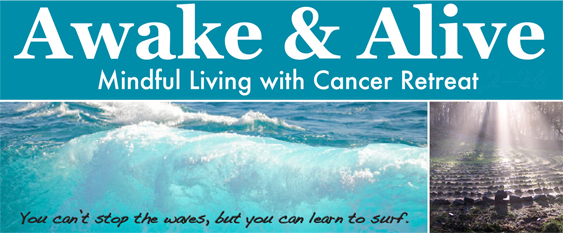 Awake & Alive: Mindful Living with Cancer Retreat
When:
April 24, 2017 – April 28, 2017
all-day
2017-04-24T00:00:00-07:00
2017-04-29T00:00:00-07:00
Where:
The Whidbey Institute @ Chinook on Whidbey Island
6449 Old Pietila Rd
Clinton, WA 98236
USA

Cost:
Registration is on a sliding scale, $795–$1295 which includes all retreat tuition, meals and lodging.
Contact:
Christine Lockhart or Marnie Jackson-Jones
360-341-3403
Healing Circles Langley co-founders Diana & Kelly Lindsay join MBSR-certified therapist Erica Rayner-Horn in co-facilitating this 5-day life-affirming, empowering retreat that helps you discover what it means to live fully awake and alive—even while facing serious illness. Gift yourself with this unique opportunity for deep reflection, healing and transformation. You will leave with practical tools and practices that empower you to live well in the midst of change and uncertainty.
Cancer can be one of the greatest challenges in life, it can be a stressful, lonely and overwhelming for everyone it touches. This retreat is designed to help you to navigate the emotional, psychological and spiritual dimensions of the journey with cancer with more ease, courage and acceptance.
You will be introduced to the transformative healing practices of mindfulness and stress reduction; the ancient discipline of Qigong and opportunities for self-reflection and exploration through expressive arts. You will learn tools that help transform fear and anxiety, boost immunity, build resilience and help you cope better with stress. Both body and soul will be rejuvenated with delicious, locally sourced organic food; acres of unspoiled peaceful forest; and the gift of the nurturing, supportive community we create together.
OUR APPROACH
The emerging model of cancer treatment is based on the understanding of the Mind-Body connection that recognizes cancer is not just a disease of the body. Cancer affects us on all levels: mental, emotional, spiritual, as well as physical. This holistic view recognizes that in order to support your body and its ability to heal it is essential to address the broader picture of health that encompasses psychological, emotional, and spiritual health.
Our approach is based on understanding that there is no one right way to approach illness – we support and respect each person's unique path. Our objective is to help each participant delve into the truth of their experience and feel empowered in taking ownership of their own way of living with cancer and its challenges. Distinguishing "healing" from "cure," we believe that healing is always possible—regardless of your physical condition.
WHO WILL BENEFIT?
Cancer Patients and Survivors Anyone with any type of cancer, at any stage, including remission. Living well with illness is a life-long endeavor, and regardless of when you were diagnosed, there are ongoing concerns and challenges those  of us with cancer have in common.
Caregivers/Companions Recognizing that caregivers are also deeply affected by their loved one's illness, the retreat may be open on a space-available basis to a limited number of partners, caregivers or significant others who feel they too will benefit from this program.
Please note: Whidbey Institute is a rural retreat center at least half an hour from the nearest hospital. This is not a suitable program for those who are significantly immune-compromised or requiring medical care. All participants must be fit enough to walk around the grounds and be physically able to care for themselves. Unfortunately we are not wheelchair accessible.


https://healingcircleslangley.org/wp-content/uploads/2016/07/AA_banner4.jpg
233
563
Kelly Lindsay
https://healingcircleslangley.org/wp-content/uploads/2019/09/healing-circles-langley-logo304x156.jpg
Kelly Lindsay
2016-07-31 12:10:32
2016-09-07 16:37:06
Awake & Alive: Mindful Living with Cancer Retreat