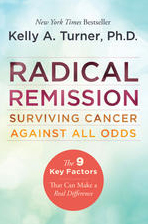 Intentional Healing is the practice of self-care—all the things we can do ourselves and with our loved ones to advance our healing independent of or in addition to medical therapies. In this study circle, we'll use Kelly Turner's book Radical Remission and other sources to look at current research around topics including patient advocacy, healthy body practices, healthy mind practices, diet, stress reduction, positive health, social support, gratitude, body mind communications, and others.
From the Table of Contents of Radical Remission:
Taking Control of Your Health
Radically Changing Your Diet
Following Your Intuition
Using Herbs and Supplements
Releasing Suppressed Emotions
Embracing Social Support
Deepening Your Spiritual Connection
Having Strong Reasons for Living
Diana Lindsay is the author of Something More Than Hope, the story of her healing from stage 4 lung cancer. She teaches Body/Mind Healing for Antioch University and is the co-founder of Healing Circles Langley.  She is currently working on a website for Commonweal's national Healing Circles initiative and is looking for fellow healing passionistas.
https://healingcircleslangley.org/wp-content/uploads/2015/10/Radical-Remission-full.jpg
224
148
Kelly Lindsay
https://healingcircleslangley.org/wp-content/uploads/2019/09/healing-circles-langley-logo304x156.jpg
Kelly Lindsay
2015-10-01 11:22:35
2015-10-30 17:07:44
Intentional Healing