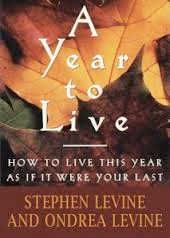 How to Live this Year As If It Were Your Last
When:
October 8, 2015 @ 11:00 am – 12:30 pm
2015-10-08T11:00:00-07:00
2015-10-08T12:30:00-07:00
Where:
Healing Circles Langley
534 Camano Ave, Langley, WA 98260
USA

Cost:
No fee; Donations gratefully accepted
From circle hosts Charles Terry & Betsy MacGregor:
"This circle will spend up to a year reading and discussing Stephen Levine's remarkable book: A Year to Live: How to Live This Year As If It Were Your Last. We see this as an exploration of consciousness, presence and healing. Each time we gather we will read one or more chapters with themes such as "Practice Dying," "Life Review," "The Moment of Death," "Forgiveness," "Gratitude," "Letting Go of Control," "After-Death Experiences," "Who Dies." Circle members will take turns reading aloud, each reading a few paragraphs, then passing it on to the next person in the circle. Anyone can raise a question or comment at any time, and a discussion may (and often will) follow.
"We participated last year in a similar process and found it extremely rewarding, meaningful and fun. It is a great way to learn and to explore deeply some of the questions about our lives that we might otherwise avoid. It is not necessary to read the book in advance. The group will meet every week until we finish it."
Betsy MacGregor, M.D. worked for nearly three decades as a hospital-based physician at a major medical center in New York City before moving to Whidbey Island in 2000. In addition to being part of the founding team of Enso House, she speaks frequently on issues related to the end-of-life experience and is author of the award-winning book, In Awe of Being Human: A Doctor's Stories from the Edge of Life and Death.
Charles Terry, J.D. worked as a community lawyer, law professor, nonprofit executive, philanthropic and nonprofit advisor, and organizational consultant. He co-founded and directed The Door, a comprehensive health, social services and arts center for teenagers in New York City. He also served as Director of Philanthropy for the Rockefeller family and has facilitated numerous meetings and retreats for families, nonprofit leaders and foundations. He is a founding board member of Enso House; and has a longstanding interest in end-of-life issues, seeing these as a way of deepening into living a more meaningful life.
https://healingcircleslangley.org/wp-content/uploads/2015/09/year-to-live-full.jpg
238
170
Kelly Lindsay
https://healingcircleslangley.org/wp-content/uploads/2019/09/healing-circles-langley-logo304x156.jpg
Kelly Lindsay
2015-09-02 21:52:32
2017-09-10 13:08:13
How to Live this Year As If It Were Your Last