Self-expression through free-style weaving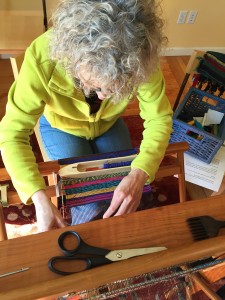 Weaving, the joining of warp and weft threads on a loom, is often referred to as a metaphor for life. Unlike traditional weaving that stresses rules and relies on patterns, free-style weaving encourages unrestrained expression and provides a journey of growth, development, and transformation.
Join Langley weaver, Diane Driver in exploring how connecting warp and weft on the loom can help us explore the sacred, connect us to ourselves, link us to our roots, and help assist us in working through life's obstacles. Diane will facilitate informal discussion about free-style weaving, and guide hands-on learning of simple free-style weaving techniques.
Please bring something significant (a healing wish for another, a short poem, a significant piece of fabric, a ribbon, etc.) you would like to weave into our cloth.
The loom will remain at Healing Circles Langley for participants and the community to bring written healing wishes to incorporate into the weaving. Written self-guidance will be provided.
https://healingcircleslangley.org/wp-content/uploads/2019/09/healing-circles-langley-logo304x156.jpg
0
0
Diana Lindsay
https://healingcircleslangley.org/wp-content/uploads/2019/09/healing-circles-langley-logo304x156.jpg
Diana Lindsay
2015-04-05 09:06:10
2015-07-01 10:43:45
Self-expression through free-style weaving