While we know you're busy, we also know you're mortal
When:
November 5, 2016 @ 9:00 am – 3:00 pm
2016-11-05T09:00:00-07:00
2016-11-05T15:00:00-07:00
Where:
Healing Circles Langley
534 Camano Avenue, Langley, WA 98260
USA

Cost:
No fee; donations gratefully accepted.
Contact:
Diana Lindsay
360-221-4101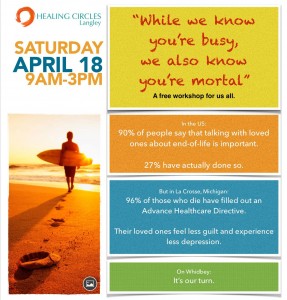 This free one-day workshop will help you…
Think about your wishes for your end-of-life care (with Cynthia Trenshaw, guardian ad litem)
Understand your choices for end-of-life care on the island (with Ann Cutcher (Enso House), Carla Jolley (WhidbeyHealth Palliative Care) and Lucinda Herring (Lumina))
Think about what remains after you die (with Lucinda Herring and Doug Kelly)
Prepare for a conversation with your loved ones 
THE DAY
8:30 Coffee and Tea
 9:00 Opening
Hosted by Kelly & Diana Lindsay
9:15-10:00 Reflection: What are my wishes for the end of my life?
Who will speak for me when I am silent? [Healthcare Power of Attorney]
What's most important to you as you think about how you want to live at the end of your life? [Life Values Declaration, Advance Directive, Living Will]

What kind of role do you want to play in the decision-making process?
What is the kind of care you want to receive?
What role do you want your loved ones to play?
With Cynthia Trenshaw, guardian ad litem
10-11:30 Panel: What are my choices for End-of-Life Care?
What might I experience if I die in different settings and what decisions might my advocate be called upon to make?
In a hospital setting:  Carla Jolley, WhidbeyHealth Palliative Care [POLST forms, Palliative Care]
In a residential hospice setting: Ann Cutcher, ENSO House
In a home with hospice care: Carla Jolley, WhidbeyHealth Hospice Care

Moderated by Diana Lindsay.
11:30 Do I have a choice about when I die? 
Nancy Niedzielski, End of Life WA, on the Washington Death with Dignity Act
12:00 Lunch and conversation
Bring a bag lunch and join a lunch circle or take a walk
1:00 What decisions remain?
Lucinda Herring, after-death consultant, on home ritual and green burial
Doug Kelly, attorney, on wills, Durable Power of Attorney, legacy, and preparing for our last swan song
 2:30 And now for "The Conversation" 
Preparing for talking with your loved ones (even if they say "Couldn't we talk about something more pleasant?") or writing a letter to your medical advocate
Guided by: Cynthia Trenshaw
 3:30 End
https://healingcircleslangley.org/wp-content/uploads/2019/09/healing-circles-langley-logo304x156.jpg
0
0
Diana Lindsay
https://healingcircleslangley.org/wp-content/uploads/2019/09/healing-circles-langley-logo304x156.jpg
Diana Lindsay
2015-04-05 08:58:11
2017-01-30 16:29:33
While we know you're busy, we also know you're mortal