We welcome you back into our center, whether it's your first time or a joyful reunion. Please drop by for a circle of two. Check out the space, visit over a cup of tea, or share whatever is on your heart today. Our volunteers are generous listeners who respect confidentiality.
Healing circles help us step out of ordinary time into a safe and accepting environment in which we can connect to each other, explore our healing, and enjoy the wonderful benefits of community.
All of our offerings are free.
Community Events
Join Healing Circles Roots of Wellness Team on December 8 for our annual community Lantern Walk!
Start at Healing Circles, 534 Camano Ave, Langley
4:30 PM Gather to get ready and share in some warm drinks. Don't have a lantern? No, problem, we will have some extras. Please bring a cellphone or flashlight.
5:00 PM | .8 mile Parade through Langley.
5:30 PM | Cookies, warm drinks, and music.
Ends at Soundview Center, 432 3rd Street, Langley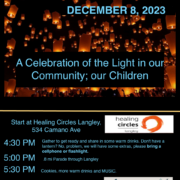 Spotlight
Climate Grief Circle will continue to meet on Saturdays through November
Climate Change Grief Circle meets on Saturday mornings from 9:00-10:30 AM at Healing Circles Langley. The circle will be a place of heart-sharing and grief expression. Open to all. 
Join the Healing Circles Langley community
Healing Circles Langley is open to all of us, regardless of our age, race, politics or beliefs. We offer many ways to bring Whidbey together both in person and online. Please find the one that fits you best. All we ask is that you follow our agreements so it remains a secular sanctuary–and community clubhouse–for all.
Join the Healing Circles Global community
If it's more convenient for you to join a circle over Zoom, consider a global circle. Built on the Healing Circles Langley model, Healing Circles Global offers circles in nine focus areas.
Fellow circle members from Whidbey appreciate how it offers them more circles, the convenience of joining from anywhere, and the opportunity to meet people from other regions and countries.
Volunteer
We are amazed by the astounding talent of people who live on South Whidbey and their wonderful generosity in donating those talents to others.  There are many ways to contribute. To learn whether we're a good match for you, please drop in Monday through Friday from 10 am to 2 pm or contact us.
Ferry photo by Tom Lindsay